Water Fact
The WaterCell bladder is manufactured from recyclable polyethylene to USFDA and EC compliance for food contact and drinking water.
Read more
Water Savings & OSD
The Vision Water WaterCell™ is preserving and conserving the environment by significantly reducing mains water use and peak flow stormwater runoff for every property where it is installed.
Read more
Our Awards
Vision Water has been recognised by industry leaders for the development of WaterCell™, a truly sustainable rainwater harvesting system for all types of buildings.
Read more
Case Study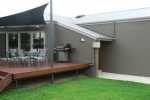 This dwelling house was constructed on a standard 600 m2 suburban lot at Hornsby Heights and completed in March 2006 That dwelling has been occupie...
Read More