Water Fact
Millions of litres of rainwater is wasted every time it rains.
Read more
Water Savings & OSD
The Vision Water WaterCell™ is preserving and conserving the environment by significantly reducing mains water use and peak flow stormwater runoff for every property where it is installed.
Read more
Our Awards
Vision Water has been recognised by industry leaders for the development of WaterCell™, a truly sustainable rainwater harvesting system for all types of buildings.
Read more
Case Study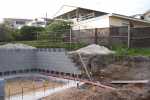 Located North of Sydney this luxury beach home is nearing completion. The design of this dwelling boasts countless features and appointments but at...
Read More